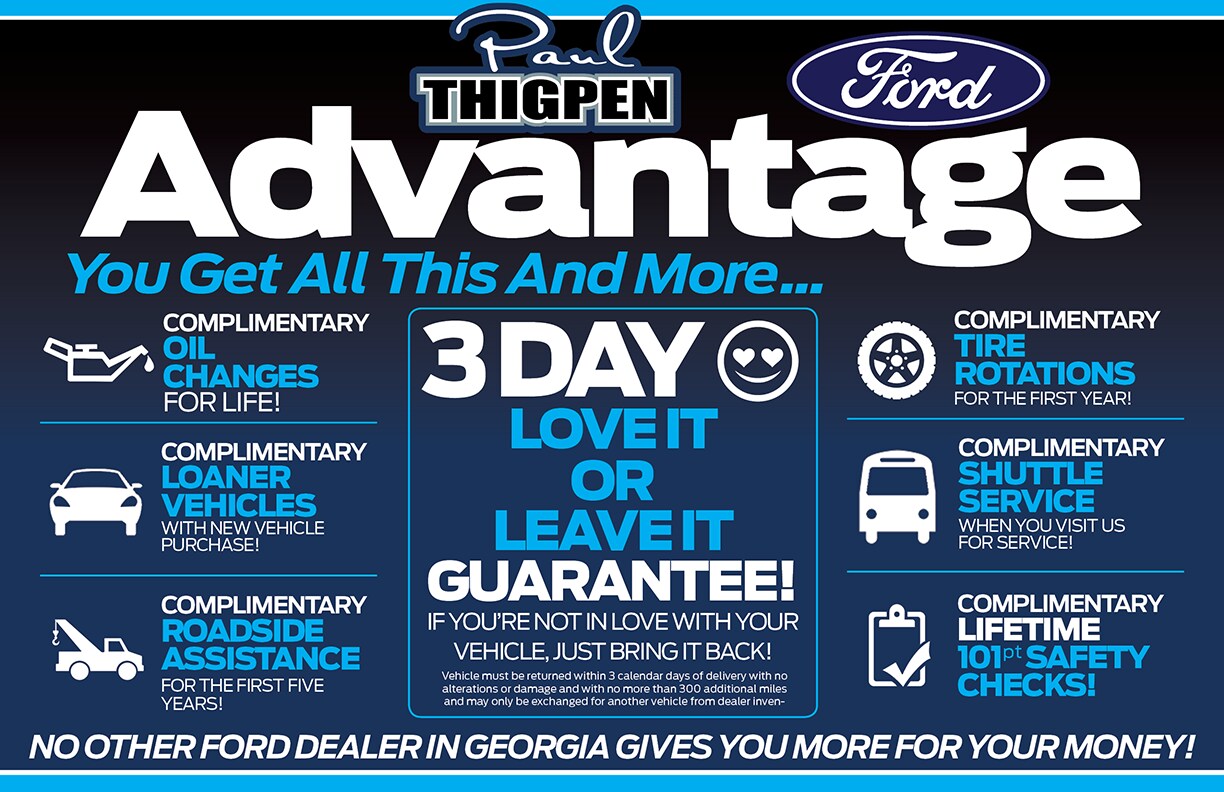 Questions About The Paul Thigpen Ford Advantage? Please Complete The Form Below
* Indicates a required field
The Paul Thigpen Advantage: Going above and beyond
You can buy a new Ford at a lot of different dealerships in Georgia and you'll get all the advantages that Ford can offer. What you won't get at other dealerships is the Paul Thigpen Advantage. With the Paul Thigpen Advantage, you get a complete array of complimentary services you won't get anywhere else in the region. These extra complimentary services are worth a lot and they make shopping here the best automotive decision you'll ever make.
A quick summary of the Paul Thigpen Advantage benefits
The Paul Thigpen Advantage includes these amazing features:
  Complimentary oil changes for life
Complimentary loaner vehicles with a new vehicle purchase
Complimentary roadside assistance for the first five years
Complimentary tire rotations for the first year
Complimentary shuttle service
Complimentary 101-point safety checks
3-Day Love It or Leave It Guarantee
Complimentary Oil Changes for Life
Your new Ford F-150 or your new Ford Explorer is a precision machine that can give you many years of dependable performance if you take great care of it. The most fundamental way to do that is to get regular, factory-recommended oil changes. Over time, tiny microscopic particles of dust, dirt and grime can work their way into your engine as you drive around Baxley or Metter, GA. Your motor oil sweeps up all those uninvited guests and helps to keep them from corroding your engine.
But eventually, the oil itself becomes too full of gunk and needs to be replaced. With our complimentary oil change, one of our factory-trained technicians will flush out the old oil and replace it with fresh new lubrication. That gives your Ford a new lease on life and helps it give you the reliable performance you deserve. Imagine getting that kind of life-giving, life-extending maintenance at no extra charge for as long as you own your Ford.
A complimentary loaner vehicle and complimentary shuttle service
When you schedule service at our dealership, we will provide you with a complimentary loaner vehicle for the entire period your car is in our shop. That means you won't get sidelined while your Ford model is having a significant repair job, even if it takes one, two or more days. If you're having a minor repair or a loaner vehicle isn't available, you can take advantage of our complimentary shuttle service that will get you to your destination in Lyons GA or wherever you're going.
Complimentary roadside assistance for the first five years
If you have a car breakdown, a dead battery, a flat tire or you run out of gas, we will provide complimentary roadside assistance for the first five years you own that Ford model.
Complimentary tire rotations
Getting your tires rotated regularly is essential to extending the life of your tires. We strongly recommend that you rotate your tires with every oil change and it's something that you'll have available for the first year you own your new Ford.
Complimentary 101-point safety checks
We will take a look at crucial components like your brakes, windshield wipers, lights and much more to make sure that everything is in proper working order and that you won't run into any unexpected problems.
3-day Love It or Leave It Guarantee
If you're not in love with your new Ford, just bring it back within three calendar days of the delivery with no alterations, no damage and no more than 300 additional miles. You can exchange that vehicle for any other model in our inventory.
See us for complete details
These amazing complimentary services are something you won't get at any other Ford dealership in the area. We combine the Paul Thigpen Advantage with the Paul Thigpen Promise which means we promise to respect your time, to never pressure you, to keep all the promises we make and more. Discover the differences we offer every business day at Paul Thigpen Ford in Vidalia GA.
The Paul Thigpen Advantage is included with every new and pre-owned vehicle purchased or leased from Paul Thigpen Ford AFTER 12/1/2022. Not valid on prior purchases. Love It or Leave It" Guarantee: Vehicle must be returned within 3 calendar days of delivery with no alterations or damage and with no more than 300 additional miles and may only be exchanged for another vehicle from dealer inventory of equal or lesser value with credit approval by primary lender. Oil Changes: Includes Oil, Filter, Labor and Disposal once per calendar year for as long as you own the vehicle; non-transferrable; customer must make an appointment for oil change. Retail Value up to $99.99 depending on vehicle. Oil Changes to be performed at originating sale dealership. See dealer for any additional details or questions. Loaner cars are available with a scheduled service appointment. On new vehicle purchases. Based on first come/first served basis. Tire Rotations for 1 Year. Rotate tires, inspect for tire wear & set tire pressure. Includes 1 tire rotation, Retail value $19.95. Shuttle service with scheduled service within 15 miles of dealership between the hours of 8am and 5pm, Monday through Friday. Roadside Assistance provided by Ford Motor Company on new Ford vehicles for the first 5 years/60,000 miles, whichever comes first. 101 Multi-point Inspection: The Service Department will check your vehicle to make sure components such as brakes, windshield wipers, lights, and much more are in proper working order and that you won't experience any unexpected problems. See dealer for complete program details.